Toyota Owner Profile Kelly Davis: How Two Long-Time Toyota Fans Stay Protected
A stress-free way to drive
Kelly Davis loves her Toyota Mirai Fuel Cell Electric Vehicle. It's sexy and luxurious, and she loves being a part of a pioneering group of fellow Mirai owners whose willingness to drive a hydrogen-cell vehicle may help change the way the world fuels its vehicles and has definitely upped the fun quotient of her daily commute.
"I absolutely love my Mirai. It makes me happy to drive it every time I'm in it. It's a true luxury car, and a great conversation starter.  The financial incentives to drive a Mirai are pretty spectacular, too. One example is that Toyota pays for my fuel! I live near two hydrogen stations, which makes it very easy for me," Davis says.
She leased her 2019 Mirai from Tustin Toyota in Tustin, Calif., and chose financing through Toyota Financial Services (TFS). "The rate was great, they were easy to deal with, the website is easy to make payments through and everything was handled with one visit to the dealer." 
Davis also purchased the Guaranteed Auto Protection (GAP) from TFS.  Davis hopes to never have to use her GAP coverage but feels comfort knowing it's there for her. Why is GAP a smart move? Regular auto insurance may not be enough if your vehicle is declared a total loss. Oftentimes, the primary auto insurance settlement is based on the market value of the vehicle, which could be less than the balance still owed on your finance or lease contract. GAP eliminates that worry: it may waive or pay the balance (minus certain fees and charges) between the amount still owed on your finance or lease contract and your auto insurance settlement.
Davis, a high school office manager in Huntington Beach, Calif., and her husband Bob are long-time Toyota fans. They've leased two Priuses each, and owned a Highlander. They've worked with TFS multiple times.
With the addition of her beautiful Atmospheric Blue Mirai, Davis has also found a new group of like-minded friends. "I'm very active on the Mirai Facebook page. You feel like you're part of a little family. When you see another Mirai, you wave, and we're also invited to music festivals, fancy dinners, food and wine festivals and other events by Toyota, as Mirai owners. They want us to be happy, and the customer service is excellent. I'm a tree hugger, too, so I absolutely love that the only emission from a Mirai is water."
The Davises have taken their Mirai from their home in Los Angeles County down to San Diego, often with their Welsh Corgi, Moxie, in the back seat. "I like that the car drives so comfortably and feels very heavy, substantial. A feature that I didn't realize I'd enjoy so much is the A and B settings on the power seats. When my husband drives it and I get back in, I push the button and the settings are perfect."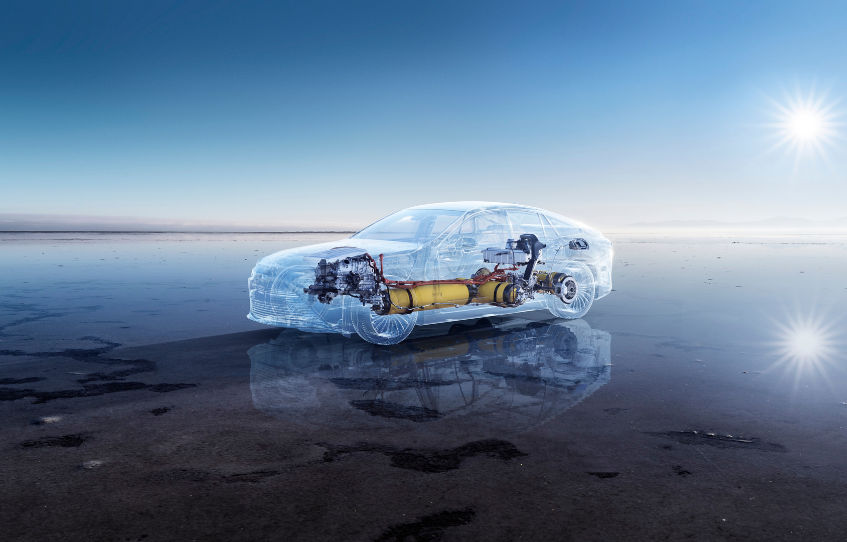 The Toyota Mirai is currently only available in California and New York, which might seem like a challenge, but Davis explains that Toyota thought about that, too. "Part of my lease includes three weeks of car rental each year, so if we want to take a road trip outside of California, we just call our dealer and reserve a car. It's fantastic," Davis says.
For Bob and Kelly Davis, the innovative, eco-friendly Toyota Mirai with no fueling costs1 and the Guaranteed Auto Protection2 coverage offered by TFS make for fun, stress-free driving. 
1 Toyota Mirai comes with $15,000 or 6 years, whichever comes first, of complimentary fuel for retail installment contracts and $15,000 or 3 years, whichever comes first, of complimentary fuel for leases. Cards are not transferable.
2 GAP is no longer permitted on retail installment contracts or lease agreements involving a new Toyota Mirai vehicle.

The information in this blog is offered for informational purposes only. Any product names, logos, brands, images, and other trademarks featured or referred to within the Toyota Financial Services (TFS) website are the property of their respective trademark holders. These trademark holders are not affiliated with TFS and do not sponsor or endorse TFS, or any of its respective websites, products, or comments unless otherwise disclosed. TFS declares no affiliation, sponsorship, nor any partnerships with any registered trademarks unless otherwise disclosed. By clicking on a hyperlink contained within this blog, you may be directed to a third-party website and will be subject to the terms of that website, including those relating to confidentiality, data privacy and security.