An Ounce of Prevention is Worth a Pound of Cure
Prepaid Maintenance and Voluntary Protection Products from TFS make it easy.
When you think about it, your Toyota does an awful lot for you and really doesn't ask for too much in return. That's by design. The entire lineup of Toyota vehicles is designed to be as easy to care for as they are stylish and well-engineered. How to protect your new Toyota? It's simple.
Keeping up with regular maintenance and service is a great way to give your Toyota the love it deserves while also guarding yourself (and your wallet) against surprise vehicle maintenance and other bills. That's why Toyota Financial Services (TFS) developed a great selection of voluntary protection products, each designed to help you solve problems before they happen. Pretty smart. 
Here's another reason our plans are a smart – even brilliant – choice. If you own or lease a new Toyota, it will come with a very nice warranty, which is terrific. Every Toyota vehicle is supported by a 36-month/36,000-mile limited warranty coverage. Each Toyota Certified Used Hybrid and Vehicle comes with a 12-month/12,000-mile limited comprehensive warranty from the date of certified purchase. At some point, when your warranty ends, so does the coverage they provide.
The end of your warranty period (or the beginning of your lease) are smart times to look into voluntary protection products. Because, as much as we'd love for every day to be sunshine and roses, stuff sometimes happens.
Voluntary Protection Products (VPPs) like these are your vehicle's MVPs: 
Our Vehicle Service Agreements (VSAs) are offered at two levels, Gold and Platinum, covering up to 250 parts for Gold and up to 1,100 for Platinum. TFS also offers a Powertrain Protection plan, which means your Toyota's engine, transmission, axle-assembly, and other eligible components are covered after your vehicle's factory warranty expires, plus you'll receive 24/7 roadside assistance and more. Here's a great chart to help you compare plans.
Guaranteed Auto Protection (GAP) covers the gap between your vehicle's current value and amount owed. When you've leased or purchased your dream vehicle like, say, a beautiful 2023 Toyota  Highlander Hybrid, there will probably be a period of time when your loan or lease balance is more than the insurance payoff for your vehicle due to a combination of factors.
During the 'gap,' if something should happen to your vehicle, someone without Guaranteed Auto Protection might find themselves looking at a potentially sizable, unexpected expense. That's where TFS' GAP coverage can really bring you peace of mind. GAP is available at the time you lease or purchase your vehicle and can be a real game changer.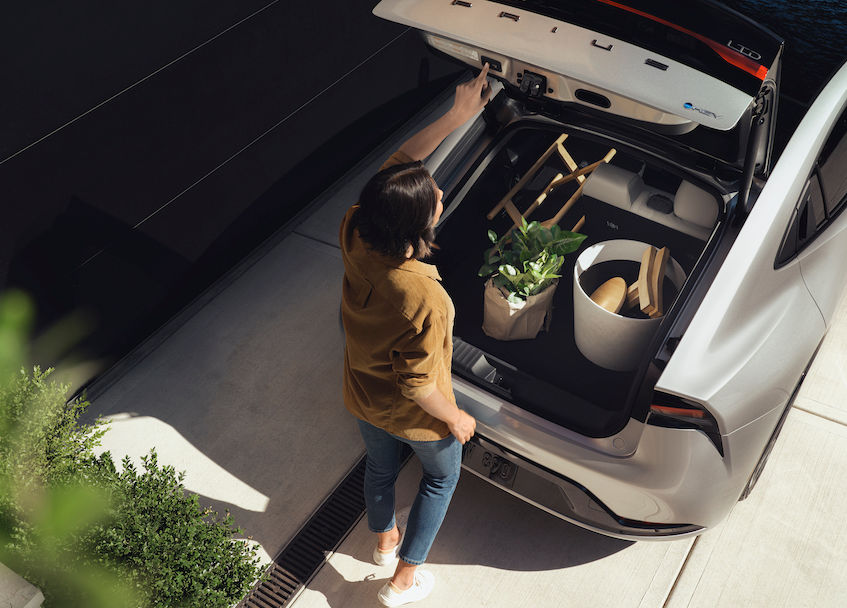 Prepaid Maintenance Plans are kind of like magic by locking in tomorrow's maintenance costs at today's prices. They also help turn surprise repair bills into a rarity because a prepaid maintenance plan is a predictable part of your budget. Your Toyota's regular maintenance happens like clockwork, and you enjoy peace of mind – while also protecting your investment. We've created a wide variety of plans designed to fit your needs, including plans for electric vehicles and Mirai fuel cell vehicles.  
Tire & Wheel Protection plans are also offered at Gold and Platinum levels, covering tire and wheel repairs or replacement caused by hazards like nails, glass, tree limbs, and potholes. Plus, get paintless dent repair and windshield repair with Platinum. We've even got a Key Replacement Protection plan, which can be added to your Tire and Wheel plan or purchased on its own. Check out the details here.
If you're leasing your Toyota, we think you'll really appreciate our Excess Wear and Use Protection plan, which can eliminate end-of-lease worries about dings, nicks, and things like torn seats or body dents. The claims process is easy to use, and there are no deductibles to pay.   

Great stuff, right? We know we can't solve every problem before it happens, but with our smart selection of voluntary protection products we can get pretty darn close. That kind of service just makes sense to us because, at the end of the day, we want your Toyota to be your BCF (Best Car Forever)!
The information in this blog is offered for informational purposes only. Any product names, logos, brands, images, and other trademarks featured or referred to within the Toyota Financial Services (TFS) website are the property of their respective trademark holders. These trademark holders are not affiliated with TFS and do not sponsor or endorse TFS, or any of its respective websites, products, or comments unless otherwise disclosed. TFS declares no affiliation, sponsorship, nor any partnerships with any registered trademarks unless otherwise disclosed. By clicking on a hyperlink contained within this blog, you may be directed to a third-party website and will be subject to the terms of that website, including those relating to confidentiality, data privacy and security.
Leasing or purchasing a new or Toyota Certified Used vehicle? Protect and maintain it like a champ.