How to Prepare Financially for a Natural Disaster
Sometimes you need help getting back on your feet, and we're here to help.
Natural disasters come in many forms, and often without warning. At Toyota Financial Services (TFS), we understand that sometimes you need help getting back on your feet, and we are here to help. Disasters such as hurricanes, floods, earthquakes, tornados or wildfire can strike quickly and it's important to know that when your world turns upside down, we are here to help you.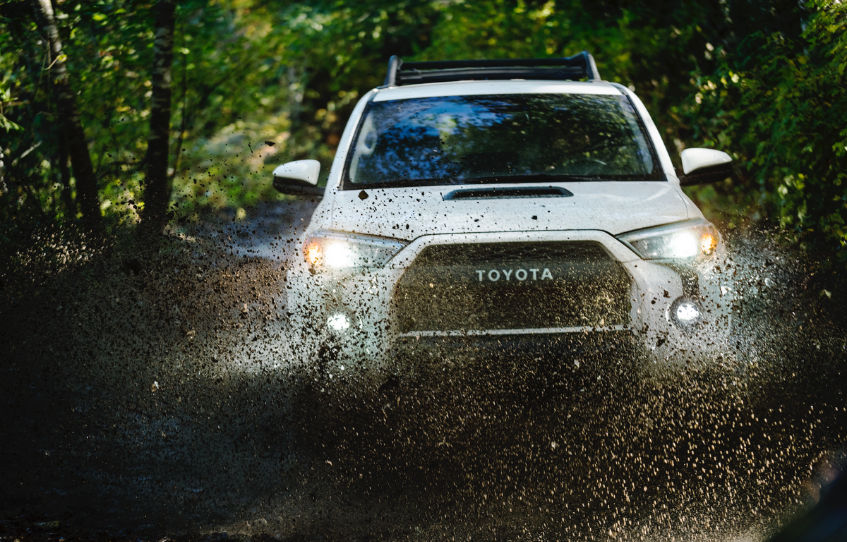 If you are a TFS customer who has been affected by a natural disaster, you can reach us in the following ways to discuss your options:
Call (800) 874-8822
Email us by using the Mail Center function after logging into your TFS online account.
Before disaster strikes, a little preparation can save a lot of headache. Plan ahead by creating an emergency document kit. Scan your important documents and store them in a secure, cloud-based server or on a flash drive and then place the original documents, or official copies, in a water and fire-proof safe. Storing your documents in a safe deposit box is another great option.
Documents you'll want to protect include identification, property, financial and other essentials.
Use this checklist to get started:
Identification Documents:
Passport
Driver's license, ID card, social security card, green card, military identification
Pet registration and identification tags
Financial and legal documents:
Your home or apartment lease or mortgage
Vehicle loan or lease documents, VIN numbers, title and registration
Account information for utilities, student loans, credit card, investments or retirement plans
Insurance policies such as homeowners, renters, auto, life, flood, earthquake
Appraisals, photos and lists of valuable items
Pay stubs, and other sources of income like government benefits, alimony or child support
Tax documents: federal and state income tax returns, property and vehicle tax
Will, power of attorney
Medical documentation:
Health/dental insurance cards or policies
Medicare, Medicaid and VA health benefits
Names and phone numbers of your doctors, dentists, pediatricians and veterinarians
List of medications, prescriptions, immunization records, allergies, medical equipment or devices
Pharmacy location and phone number
Disabilities documentation
Living will, power of attorney documents
 
Program important phone numbers into your phone. Include doctors, veterinarians, utilities, family members, legal advisors, your local American Red Cross, banks, creditors, and insurance companies. You may also want to store this list, with your emergency document kit, on a secure, cloud-based server.
Money matters can also be affected in the event of a disaster. If you haven't already, start an emergency savings fund. An emergency fund of $1,000 is a great start, but eventually you'll want to save enough for three to six months of expenses. It is also wise to keep some cash on hand, in a safe or other secure location in your home.
Double check your insurance policies to make sure you are well covered. If disaster strikes, you'll want enough homeowners or renter's insurance to enable you to recover. You may need to relocate, rebuild your home, replace belongings, and offset costs if you're unable to live in your home temporarily. Giving your policies an annual review and revising them as your needs change is a great idea.
It's also important to protect your financial assets in the event of liability to others. A standard homeowners or renters insurance policy covers some damages but not all. Damage from fire, lightning, hail and explosions are typically covered, as are tornados, but if you live in an area at risk of flooding or earthquakes, you'll need coverage for those as well.
A disaster can disrupt mail service for days or weeks. If you depend on Social Security or other regular benefits, switching to electronic payments is a simple, significant way to protect yourself financially before disaster strikes. Many employers also offer electronic payment, which has the added benefit of eliminating the risk of stolen checks.
We hope you never face a natural disaster or hardship, but if the unexpected strikes, your planning will make getting back on your feet much easier and less stressful. This is a great starting point. You can learn even more tips for disaster preparation by visiting the American Red Cross and FEMA websites.
The information in this blog is offered for informational purposes only. Any product names, logos, brands, images, and other trademarks featured or referred to within the Toyota Financial Services (TFS) website are the property of their respective trademark holders. These trademark holders are not affiliated with TFS and do not sponsor or endorse TFS, or any of its respective websites, products, or comments unless otherwise disclosed. TFS declares no affiliation, sponsorship, nor any partnerships with any registered trademarks unless otherwise disclosed. By clicking on a hyperlink contained within this blog, you may be directed to a third-party website and will be subject to the terms of that website, including those relating to confidentiality, data privacy and security.