A Lease Story: Patrick Mahoney and His RAV4 XSE Hybrid
Convenience, great service, and peace of mind. When you lease your next vehicle, TFS has everything you need.
Driving a new Toyota vehicle is a gift you give yourself every day! Meet one happy 2021 RAV4 XSE Hybrid driver.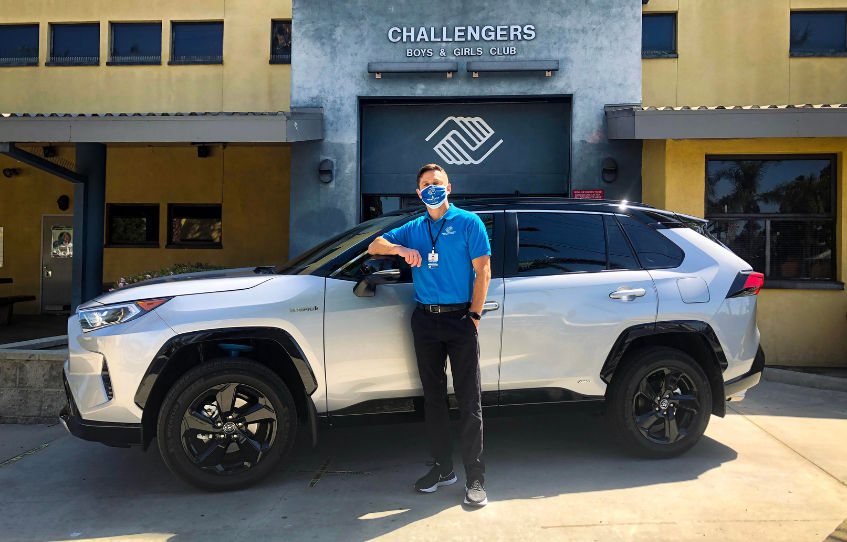 Patrick Mahoney is one of the good guys. He's the CEO of Boys & Girls Clubs of Metro Los Angeles, an organization he's been a part of since 2018. He became CEO in January. The five Boys & Girls Club locations his team oversees are spread throughout the city of Los Angeles and Mahoney regularly drives from one to the other to deliver donations, supplies or, since COVID closed many schools, meals for kids who otherwise might not eat regularly.
RAV4 HYBRID "A REALLY COOL CAR"

As a Christmas present to himself, and in preparation for all of the city driving and supply delivery he'd be doing, Mahoney leased a 2021 RAV4 XSE Hybrid in Blueprint/Midnight Black Metallic. This is one cool Toyota. It's sporty, and the interior is black leather with stylish blue topstitching detail. Slick. Sleek. And for a moment, Mahoney was filled with doubt.
"It's got a black roof and wheels, part of the sport package, and I wondered: can I pull this off? It seems like a really cool car," Mahoney said, with a laugh. He'd never been someone who had a souped-up car. Luckily his partner was there to quell those doubts and told him to go for it. 
Another selling point for Mahoney was the fact that the RAV4 is a hybrid. "I needed something fuel efficient and I wanted a small SUV," he explained. Toyota is also a longtime partner of Boys & Girls Clubs of America, another important data point.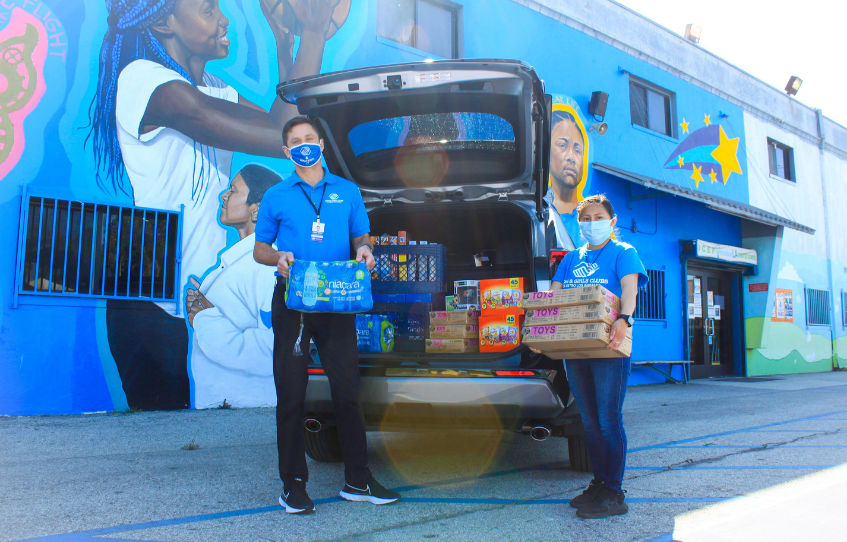 DECISION TIME: BUY OR LEASE?
His lease is 39 months, and he decided to work with TFS for financing because the process at the dealership was so easy. "Leasing allows me more flexibility to ensure that I can upgrade every few years, especially in a time when auto technology continues to become more environmentally efficient," Mahoney said. 
That makes sense – Mahoney's dealership, Toyota of Hollywood, understands the importance of flexibility and technical innovation. After all, it was the first Toyota dealership in the United States, founded in 1957. Its focus on hybrid electric vehicles dates back to the launch of Toyota's groundbreaking Prius in 1997. The dealership has even provided Priuses for stars to arrive at the Oscars.  
Mahoney opted to protect his Toyota with two vehicle protection plans: Tire & Wheel Protection and Guaranteed Auto Protection. "I wanted to make sure that I had extra protection against the roads and potholes in Los Angeles and to protect my black sport rims.  I also wanted to make sure that I was extra protected in the event there was irreparable damage," he explained. His protection plans give him peace of mind, and the confidence that he can manage out-of-pocket expenditures should an incident occur.
The spiffy new RAV4 has been fun for Mahoney in the city, and out of town. "About a month after I bought the car, I went to Lake Arrowhead and there was an unusual amount of snow. I have rarely driven in the snow in recent years, so I was quite concerned about being locked in or needing chains. I put the RAV4 into sport mode and it handled the snow and ice incredibly well… We were driving down the mountain and people were sliding all over the place.  I felt like the car had total control of the road and it was very reassuring."
Convenience, great service and peace of mind, plus sporty good looks and excellent fuel economy. That's the Toyota RAV4 XSE Hybrid. Great car, great guy!
The information in this blog is offered for informational purposes only. Any product names, logos, brands, images, and other trademarks featured or referred to within the Toyota Financial Services (TFS) website are the property of their respective trademark holders. These trademark holders are not affiliated with TFS and do not sponsor or endorse TFS, or any of its respective websites, products, or comments unless otherwise disclosed. TFS declares no affiliation, sponsorship, nor any partnerships with any registered trademarks unless otherwise disclosed. By clicking on a hyperlink contained within this blog, you may be directed to a third-party website and will be subject to the terms of that website, including those relating to confidentiality, data privacy and security.